NEW YORK ORAL & MAXILLOFACIAL SURGERY
800A Fifth Avenue, Suite 404




New York

,

NY

,

10065
MARK STEIN, D.D.S., M.D.
212.888.4760
CALL TODAY!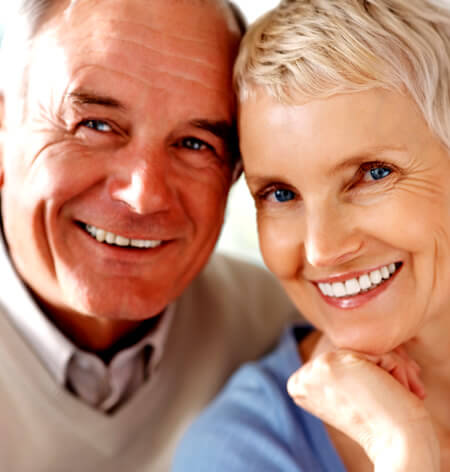 Zirconia Dental Implants
Zirconia implants are durable nonmetal colored dental implants that will restore your bright smile. Over the years, patients have enjoyed having a more permanent solution for a missing tooth or teeth through traditional dental implants. Now, zirconia dental implants provide the same solution to tooth loss while containing no metallic color! If you have an allergy to metals or components of conventional titanium dental implants, then zirconium dental implants may be the solution for you.
While dental implants present patients with a more permanent solution to tooth loss, zirconia implants have become increasingly popular for their durability, comfort, and titanium-free attributes. Using the most up-to-date technology, Dr. Stein proudly offers his patients the option of zirconia non-titanium implants.
What is a zirconia implant?
A zirconia implant, also known as a non-titanium implant, is a durable option for dental reconstructive surgery. The biocompatible nature of a zirconia dental implant allows for the seamless progression of the implant into your natural gum line. At New York Oral & Maxillofacial Surgery, Dental Implant Center, we believe in restoring your natural, confident smile with the most up-to-date technology. The biocompatibility of zirconia implants allows for a cohesive bond with the jaw bone with no visible discoloration due to the white coloring of the implant. Zirconia implants offer a more durable tooth replacement because the non-titanium makeup of the implant offers a higher fracture resilience rate compared to natural teeth.
Advantages of zirconia nonmetal implants:
Are beneficial to those patients who have a metal (titanium) allergy
Feel and look more natural than metallic implants as there is no chance for metal to show through the gum
Are easily accepted by the surrounding gum and jaw bone
Preserve your natural smile
Contain no titanium
Are long-lasting and dependable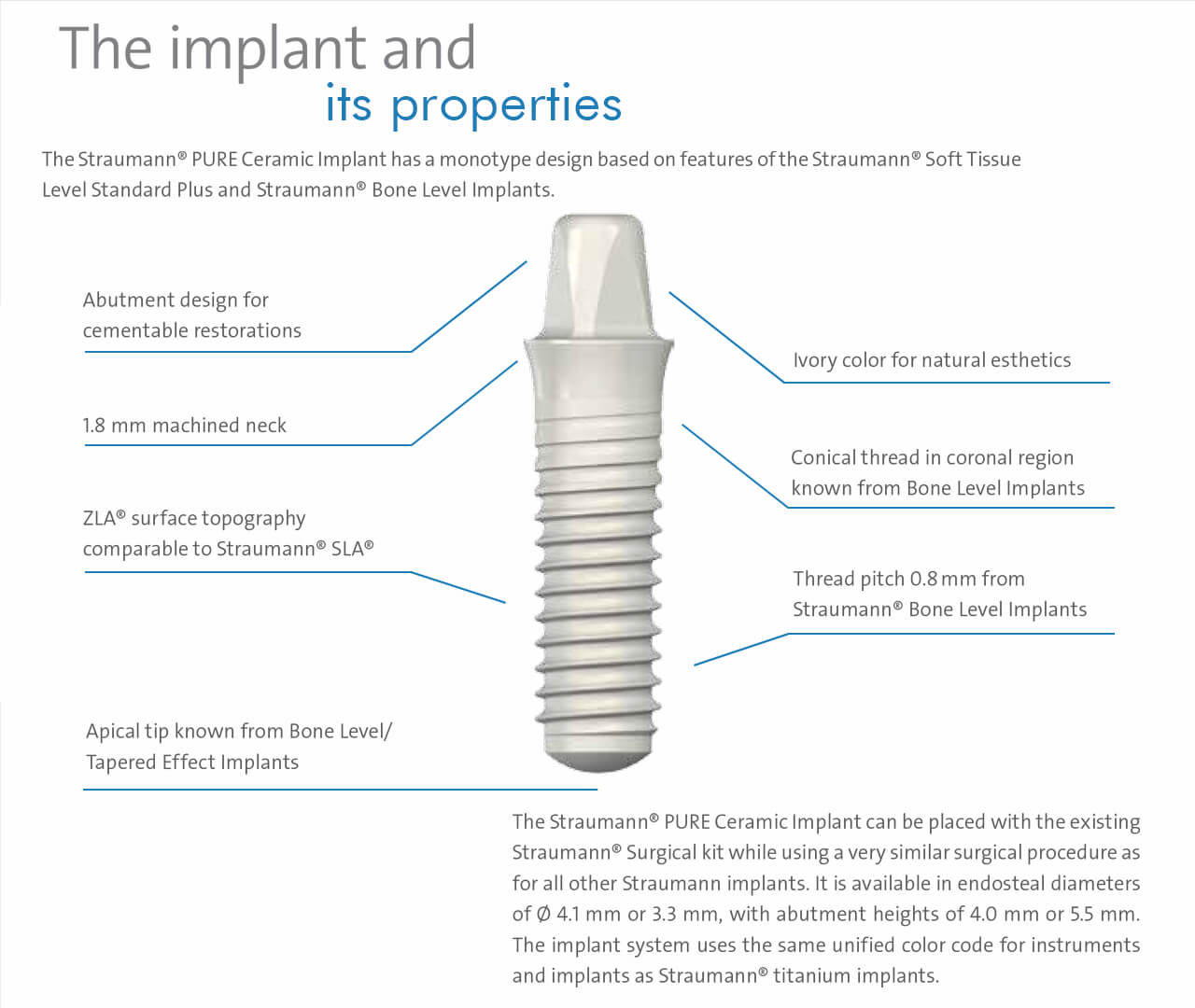 Why a zirconia dental implant?
Zirconia or ceramic dental implants have a variety of positive features, especially when compared to dentures or dental bridges. Traditional replacements, such as dentures, look and feel less natural, with the ability to cause some discomfort. As dentures and bridges are removable, this can lead them to shift, loosen, or detach while eating. Requiring constant upkeep, removal, and cleanliness, a denture or bridge may prove to be a hassle to maintain.
Zirconia implants are reliable, natural-looking, and do not shift or cause discomfort. Unlike dentures and bridges, you can enjoy your favorite foods without any embarrassment or pain, as dental implants function like your natural tooth or teeth.
Traditional dentures also require specialized pastes for regular maintenance. Zirconia dental implants allow you the freedom of a natural smile and can be treated like a regular tooth or teeth. Zirconia dental implants require no specialized creams, pastes, or maintenance.
Why is zirconia better than a traditional titanium implant?
Compared to traditional titanium implants, zirconia implants contain no titanium. These non-titanium dental implants have no potential to corrode, and their biocompatible composition allows for an easier healing process after your procedure. On top of this, the natural ivory color of the zirconia dental implant provides a more realistic and seamless smile. This specific feature of the ceramic implant makes for a more natural smile.
While titanium implants have been used prior to the introduction of zirconia dental implants, there are a number of improvements that zirconia dental implants can offer you. The zirconia dental implants have quick, expected osseointegration, or the direct structural integration between living bone and the implant. This healing period is where your implant securely anchors to your living bone. This secure fit provides a stable base for your crown to be placed on, assuring that your implant is fashioned adequately.
Zirconia dental implants have a healing process that takes 6-12 weeks for a successful direct connection of the ceramic implant and living bone. The overall structural integrity of zirconia implants allows for longevity and a durable, lasting, natural smile. This process involves a period of time where the implant will be placed within your gum line. As your gum and jaw begins to heal, the implant and your bone and gum will bond with one another, securing a firm, healthy cohesion of the implant with your living bone.
Zirconia dental implants are easy to maintain, and their white coloring provides a more pleasing aesthetic. Some implants have the potential to corrode in response to fluorides (toothpastes and mouthwashes), which can lead to implant failure. However, zirconia dental implants are resistant to corrosion due to their nonmetal composition.
A titanium implant may leave a metallic discoloration or a slight gray hue around your gum where the titanium implant lies if you have a receding or thinning gum line. In cases like this, a patient may benefit from a nonmetal dental implant, which will leave no visible discoloration due to its white coloring. Patients respond differently to each type of dental implant, so Dr. Stein can help you determine which dental implant is best for your individual situation, needs, and desires.
Advantages of zirconia implants
Zirconia Implants
Traditional Implants
Contain no titanium
Are made of titanium
Are long-lasting and durable
Are durable and long-lasting
Do not cause allergic reactions
Can cause possible allergic reaction
Do not discolor your gums
Can leave a slight discoloration on your gum line
Do not corrode
Have the possibility to corrode
How does it work?
Most dental implant procedures are performed in office with the use of Intravenous Sedation or local anesthesia. During your procedure, the zirconia dental implant will be implanted into the jaw bone where the tooth is missing. After this initial visit, you will be given time for your gum and bone to heal and bond with the zirconia implant. Once the implant has successfully bonded with the bone and gum, you will then return to your restorative dentist to have your crown fitted directly into the nonmetal implant.
With Dr. Stein's experience in dental implants, he is able to place a zirconia implant with minimally invasive techniques, which require minimal post-procedure discomfort and a short recovery time that will have you back to smiling soon after your visit. The procedure for one dental implant will only take between 15-20 minutes. After the procedure, you may experience a short recovery period with slight soreness lasting 1-2 days. Recovery time is different for each individual patient, and it is dependent upon the amount of implants you may require.
How do I get started with zirconia implants?
Dr. Stein and his staff would be happy to discuss zirconia dental implants with you. Please call 212-888-4760 or schedule an appointment online to arrange for a private consultation at our office.
What is a dental implant?
What is the procedure for a dental implant?
What are the treatment options for missing teeth?

NEW YORK'S
PREMIER ORAL SURGEON &
NYC DENTAL IMPLANT SPECIALIST
RATED #1 ON DR. OOGLE
VOTED BEST IN MANHATTAN
RATED #1 ON YELP
BEST ORAL SURGEON UPPER EAST SIDE NEW YORK CITY
VOTED SUPER SPECIALIST
THE NEW YORK TIMES SUPER DOCTORS
OUR PATIENTS SPEAK OUT
Dear Dr. Stein,
I wanted to extend a heartfelt thank you for the excellent care you provided for our daughter Ana. From the moment we met you during our first consultation, we knew Ana could not be in better hands. We truly appreciate your kindness and professionalism. She still talks about your letting her listen to music! :)
See you during the summer for the next exposure! :)
Jenny & Geoff
Dr. Stein,
You did an amazing job on my teeth. I could not have imagined that one day my teeth/smile would look this great. Thanks again for all your hard work. :)
Kelsey
My dentist, whom I regard highly, recommended Dr. Mark Stein for a complicated extraction that she would not perform. I was scared of this procedure, but Dr. Mark Stein made it easy—a walk in the park. The staff was extremely friendly and the entire experience was beyond my expectations. I give Dr. Stein an A+.
Best place ever to go get your wisdom teeth pulled. They were so pleasant as soon as you met them and made sure you were comfortable and even followed up after hours at home to make sure I was ok and had no more concerns. I didn't feel a thing. Dr. Stein and his staff are great!
Pamela
Dr. Stein is a wonderful surgeon. I had a true fear of having teeth pulled, to the extent that I have had fillings and then root canals done on my wisdom teeth. Please let me advise don't do that. Instead, visit Dr. Stein. All of his work for me has been painless, fast, friendly, and professional. His office and staff are knowledgeable, efficient, and very pleasant. I recommend Dr. Stein without reservation. Look no further.
Regina M.
I was referred to Dr. Stein for extraction and a dental implant. He was extremely kind, listened to my concerns and explained everything thoroughly. The procedure was totally painless and I had no problems afterwards unlike my other dental experiences. I would highly recommend Dr. Stein to anyone needing an oral surgeon. A+++
Dr. Stein is an outstanding oral surgeon. He is extremely friendly and gentle, called me the evening after my surgery to make sure I was doing OK, and took plenty of time to explain what he was doing and what to expect. I recommend him highly.
Dearest Dr. Stein & Wonderful Staff Members,
I would just like to take this opportunity to thank you all for getting me in so promptly for my consult, then for the fast appointment, and finally for the professional courtesy. You truly made me feel very comfortable and I did not want it to go unnoticed.
Thank you…from the bottom of my heart. You have changed my life, making each and every day a reason to show off my beautiful smile. I appreciate all that you have done. I am reminded of your hard work, patience, compassion and confidence every time I look in the mirror.
Thank you so very much. Because of you, I can put my past to rest and smile bright into my future...
Dr. Stein is a brilliant doctor and surgeon, who is highly professional and caring. He is hard working, and is truly committed to his patients. He practices cutting edge medicine, and is highly respected by his peers.
Dr. Larisa Kayserman MD
Previous
Next